Home

/

POOL LAB PL45 SALT CHLORINATOR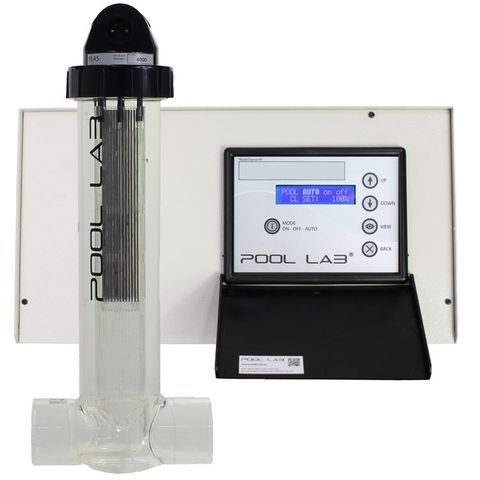 POOL LAB PL45 SALT CHLORINATOR
Description
Innovative technology designed for the Australian market, Pool Lab® salt chlorinators cope with conditions others cannot tolerate. They perform efficiently and economically for longer, without the need for constant adjustment or maintenance.
---
Features & Benefits
Control Panel Very easy to set times and operate with no complicated menus to navigate through.
Efficient Switch Mode Power Supply Compact and light weight, the control box is high tech and efficient compared with old style heavy transformer power supplies.
Heavy Duty Control Unit Weather proof and suitable for outdoor installations with display cover to protect against the effects of the sun.
Patented Automatic Self-Cleaning Cells Clever software in the microprocessor automatically reverses the polarity of the electrolytic plates to maximise the self- cleaning process.
Patented Clear Vertical Cell The clear high strength vertical cell incorporates flow detection and by its design, provides 100% hydrogen gas evolution protection. Some horizontal cells that rely on a flow switch only do not provide this level of protection.
Automatic Output Limiting This protects the power supply from over-salting and allows salt to be added without switching the chlorinator off.
Automatic Low Salt Warning If salt levels fall below the optimum level, the diagnostic display scrolls a message requesting a salt top up.
Automatic Low Salt Stop & Re-Start If salt levels fall below the minimum threshold where electrode damage may occur, the cell shuts down and a LOW SALT – OFF message scrolls. The chlorinator periodically re-tests and when normal salt levels are restored the cell automatically re-starts.
Automatic Memory Save If there's a power failure all information is stored for at least seven days. There are no batteries that can go flat or leak.
Automatic Pump Protection Monitor If the pump is starved of water and running dry, the chlorinator switches the pump off to prevent damage occurring. Run-dry timing can be adjusted for different hydraulic conditions and pump types.
Automatic Pump Flush Cell power switches off 30 seconds prior to pump switch off to flush the filtration system components of concentrated chlorine. This prevents high chlorine levels corroding pipe work, heat exchangers or in-floor cleaning systems.
Smart diagnostic display No need to take your cell to a pool shop for testing. With a touch of a couple of buttons, the Chlorinator will provide you with all the Volts and Amp data you require, on both polarities to establish if the cell is in good condition. Enter history to see total cell running hours with chlorine output per day and week displayed.
---
Technical Specifications
Produces 45 grams of chlorine gas per hour
Ideal salt level 3000ppm with water at 25°C
Suits outdoor pools up to 162,000 litres
Suits indoor pools up to 265,000 litres
Cell has 50mm unions (reducers not included)
5 year warranty on control box and cell*
Note: Pool volumes listed above are intended as a guide only - installer should evaluate likely demand.
Downloads